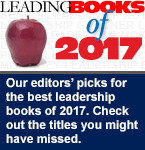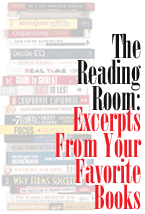 How to Link to this
Web Site.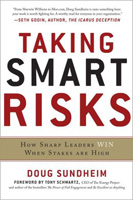 Taking Smart Risks

In today's market, playing it safe is not an option

The business world is in flux, and you have to think and act quickly in order to stay competitive. But the last thing you want to do is make reckless business decisions. You have to find the middle ground. You have to take smart risks.

In this groundbreaking book, leadership expert Doug Sundheim explains how to find that precise point between comfort and danger for generating the sustained ability to work at the highest level of performance.

Read More
DON'T MISS THESE TITLES!





Admired: 21 Ways to Double Your Value

You deserve to be valued, respected, and admired for what matters to you. Here are twenty-one ways to make it happen. "Imagine how it would feel to be fully valued for what you do best. What if your boss, your customers, and your family really appreciated what you have to offer? How proud would you be if your organization won the top spot among Fortune Magazine's 'Most Admired Companies?' What if Jim Collins rated you a 'Level 5 leader?' In this book, you'll find 21 simple and powerful strategies that will help you become more valued in a crowded and competitive world—not in a superficial way or just for its own sake—but for what matters most to you and to the most valuable people (MVPs) in your life and work."
Read More

The Success Equation

Much of what we experience in life results from a combination of skill and luck. The trick, of course, is figuring out just how many of our successes (and failures) can be attributed to each—and how we can learn to tell the difference ahead of time. In most domains of life, skill and luck seem hopelessly entangled. Different levels of skill and varying degrees of good and bad luck are the realities that shape our lives—yet few of us are adept at accurately distinguishing between the two. Imagine what we could accomplish if we were able to tease out these two threads, examine them, and use the resulting knowledge to make better decisions.
Read More

Serial Innovators

Firms are like living organisms. They're born, they grow, and then they struggle to survive. In today's high-stakes, survival-of-the-fittest economy, keeping up with changing markets marks the difference between businesses that flourish and those that flounder and fold. Serial Innovators: Firms That Change the World examines the aging process of the firm, identifying and explaining the factors that slow down its ability to adapt to an ever-evolving marketplace. Reviewing recent findings from across diverse academic fields—including economics, psychology, neuroscience, sociology, and many others—the book presents an exciting new understanding of how growing firms develop rigidities that prevent change. And how to resist them.
Read More

Creating Prosperity, Energy, and Joy in a Low-Trust World

After illustrating the global relevance of trust with his book The Speed of Trust by selling more than one million copies in twenty-two languages, Stephen M. R. Covey again illuminates the hidden power of trust to change lives and impact organizations in Smart Trust. In a compelling and readable style, he and long-time business partner Greg Link share enlightening principles and anecdotes of people and organizations that are not only achieving unprecedented prosperity from high-trust relationships and cultures but—even more inspiring—also attaining elevated levels of energy and joy.
Read More



Antifragile: Things That Gain from Disorder

From the bestselling author of The Black Swan and one of the foremost thinkers of our time, Nassim Nicholas Taleb, a book on how some things actually benefit from disorder.

In The Black Swan, Taleb outlined a problem, and in Antifragile he offers a definitive solution: how to gain from disorder and chaos while being protected from fragilities and adverse events. For what Taleb calls the "antifragile" is actually beyond the robust, because it benefits from shocks, uncertainty, and stressors, just as human bones get stronger when subjected to stress and tension. The antifragile needs disorder in order to survive and flourish.

Taleb stands uncertainty on its head, making it desirable, even necessary, and proposes that things be built in an antifragile manner. The antifragile is immune to prediction errors. Why is the city-state better than the nation-state, why is debt bad for you, and why is everything that is both modern and complicated bound to fail? The book spans innovation by trial and error, health, biology, medicine, life decisions, politics, foreign policy, urban planning, war, personal finance, and economic systems. And throughout, in addition to the street wisdom of Fat Tony of Brooklyn, the voices and recipes of ancient wisdom, from Roman, Greek, Semitic, and medieval sources, are heard loud and clear.