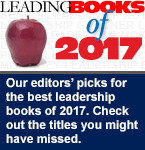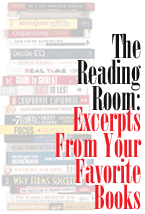 How to Link to this
Web Site.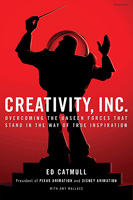 Creativity, Inc.

Creativity, Inc. is for anyone who wants to work in an environment that fosters creativity and problem solving. Ed Catmull believes good leadership and help creative people stay on the path to excellence no matter what business they're in. At Pixar, they start from the presumption that their people are talented and want to contribute. They accept that, without meaning to, their company is stifling that talent in myriad unseen ways and so they try to identify those impediments and fix them.

Creativity, Inc. is about the ongoing work of paying attention—of leading by being self-aware, as managers and as companies.

Read More
DON'T MISS THESE TITLES!




David and Goliath: Underdogs, Misfits, and the Art of Battling Giants

In David and Goliath, Malcolm Gladwell challenges how we think about obstacles and disadvantages, offering a new interpretation of what it means to be discriminated against, or cope with a disability, or lose a parent, or attend a mediocre school, or suffer from any number of other apparent setbacks.
Read More

Thinking in New Boxes

Creativity is paramount if you are to thrive in a time of accelerating change. Simply thinking "out of the box" is not the answer. True ingenuity needs structure, hard analysis, and bold brainstorming. It needs to start thinking in new boxes—a revolutionary process for sustainable creativity from two strategic innovation experts from The Boston Consulting Group
Read More
Die Empty

Most of us live with the stubborn idea that we'll always have tomorrow. But sooner or later all of our tomorrows will run out. Each day that you postpone the hard work and succumb to the clutter that chokes creativity, discipline, and innovation will result in a net deficit to the world, to your company, and to yourself. Die Empty is a tool for individuals and companies that aren't willing to put off their best work. A guide for reclaiming your passion, finding your voice, and unleashing your brilliance every day.
Read More

Launching Your Personal Search for Success

Everyone knows that you are supposed to "follow your dream." But where is the road map to help you discover what that dream is? You have just found it. In Springboard, award-winning author and teacher G. Richard Shell helps you find your future. His advice: Take an honest look inside and then answer two questions: What, for me, is success? and then, How will I achieve it? Throughout, he shares inspiring examples of people who found what they were meant to do by embracing their own true measure of success.
Read More



Antifragile: Things That Gain from Disorder

From the bestselling author of The Black Swan and one of the foremost thinkers of our time, Nassim Nicholas Taleb, a book on how some things actually benefit from disorder.

In The Black Swan, Taleb outlined a problem, and in Antifragile he offers a definitive solution: how to gain from disorder and chaos while being protected from fragilities and adverse events. For what Taleb calls the "antifragile" is actually beyond the robust, because it benefits from shocks, uncertainty, and stressors, just as human bones get stronger when subjected to stress and tension. The antifragile needs disorder in order to survive and flourish.

Taleb stands uncertainty on its head, making it desirable, even necessary, and proposes that things be built in an antifragile manner. The antifragile is immune to prediction errors. Why is the city-state better than the nation-state, why is debt bad for you, and why is everything that is both modern and complicated bound to fail? The book spans innovation by trial and error, health, biology, medicine, life decisions, politics, foreign policy, urban planning, war, personal finance, and economic systems. And throughout, in addition to the street wisdom of Fat Tony of Brooklyn, the voices and recipes of ancient wisdom, from Roman, Greek, Semitic, and medieval sources, are heard loud and clear.