Appreciative Intelligence
: Seeing the Mighty Oak in the Acorn
Tojo Thatchenkery and Carol Metzker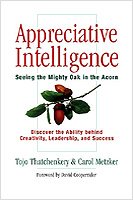 Format:
Hardcover, 200pp.
ISBN:
9781576753538
Publisher:
Berrett-Koehler Publishers
Pub. Date:
May 2, 2006
Average Customer Review:

For Bulk Orders Call: 626-441-2024

Description and Reviews
From
The Publisher:
Today's most creative and successful people possess an unusual ability: they know how to reframe reality to reveal the hidden possibilities within even the most seemingly unpromising situations. Tojo Thatchenkery and Carol Metzker call this unique talent 'appreciative intelligence." Using real-world examples--like Asa Candler, who looked at a failing headache remedy called Coca-Cola and saw a bestselling soft drink, and Charles Pellerin, who helped NASA bounce back from the Hubble telescope debacle--they describe this ability in detail for the first time and explain how you can develop it in yourself or your organization.
Appreciative Intelligence
provides a new answer to what enables successful people to dream up their extraordinary and innovative ideas; why employees, partners, colleagues, investors, and other stakeholders join them on the path to their goals, and how they achieve these goals despite obstacles and challenges. It is not simple optimism. People with appreciative intelligence are realistic and action oriented--they have the ability not just to identify positive potential, but to devise a course of action to take advantage of it.
Drawing on their own original research and recent discoveries in psychology and cognitive neuroscience, Thatchenkery and Metzker outline the evidence for appreciative intelligence, detail its specific characteristics, and show how you can develop this skill and use it in your own life and work. They show how the most successful leaders are able to spread appreciative intelligence throughout an organization, and they offer tools and exercises you can use to increase your own level of appreciative intelligence and so become more creative, resilient, successful, and personally fulfilled.

Reviews
"Appreciative intelligence worked for Rotary International in its efforts to help establish the largest global health endeavor in history--the Global Polio Eradication Initiative."
óCarl-Wilhelm Stenhammar, President, Rotary International 2005-06
"Appreciative Intelligence is provocative and compelling. It reveals the ability behind exciting and unexpected innovations, turnarounds, or accomplishments that were once considered impossible. A must-read for anyone who wants to excel in work or in life.
óW. Warner Burke, Edward L. Thorndike Professor of Psychology and Education, Teachers College, Columbia University
"An inspiring and practical account of how to develop the capacity to see potential within the present and to develop this capacity within oneself and in others.
óJane E. Dutton, William Russell Kelly Professor of Business Administration and Professor of Psychology, Stephen M. Ross School of Business, University of Michigan
". . . a thought-provoking and highly enjoyable book. Appreciative Intelligence explores the real alchemy of leadership--the ability to transform opportunities into realities. More importantly, the authors show you how to develop this intelligence in yourself.
óJay A. Conger, Kravis Research Professor of Leadership, Claremont McKenna College, and author of Growing Your Company's Leaders
"Stunning! Going one step beyond appreciative inquiry, Thatchenkery and Metzker have made an exciting contribution to the new field of positive organizational scholarship. This book will forever change how you think about intelligence.
óRobert Kramer, PhD, Director, Executive Education Programs, American University

About the Authors
Tojo Thatchenkery
, PhD, is a professor of organizational learning at the School of Public Policy, George Mason University. He is the author of several books and articles on change management and has consulted with many international organizations, including IBM, Lucent Technologies, the American Red Cross, British Petroleum, and the International Monetary Fund.
Carol Metzker
has a master's degree in organizational learning from George Mason University and has more than fifteen years' experience in communications and corporate environments.

Find Items On Similar Subjects
Becoming a Resonant Leader
: Develop Your Emotional Intelligence, Renew Your Relationships, Sustain Your Effectiveness