I thought I had read most everything there was to read about Lord Horatio Nelson. And then in late 2004, I came across Andrew Lambert's
Nelson: Britannia's God of War
. The book races on for hundreds of thrilling (to me) pages. But pragmatist that I am, I decided to extract a handful of principles. I call it:
The Nelson Baker's Dozen
. That is, 13 ideas, extracted from Mr. Lambert's book.
Here we go:
1. SIMPLE-CLEAR SCHEME ("PLAN").

The plan—the Nelson Plan—is not "wildly imaginative." It is something that his subordinate commanders could readily understand. Plans that Matter: Simple, clear schemes. People get it! It reminds me of the old Gen. George Patton line: "A good plan executed with vigor right now beats a 'perfect' plan executed next week." That was Nelson!
2. SOARING/BOLD/CLEAR/UNEQUIVOCAL/WORTHY/NOBLE/
INSPIRING/"GOAL"/"MISSION"/"PURPOSE"/"QUEST."

If you're a fan of Patrick O'Brian's books, you know that most of the "commanders" are "trying to muddle through." Nelson, definitely, did not subscribe to the "muddle through" strategy. His goal was simple: Destroy. Humiliate. Eradicate. (The French fleet.) And this was a "something" that the average sailor or officer could sign up for. So it was a goal-worthy-of-giving-your-life-for.
3. "CONVERSATION": ENGAGEMENT OF ALL LEADERS.

I'm not going to go so far as to say that Nelson was an "empowerment" freak. I'm sure he wasn't, compared to our "participation" times. On the other hand, relative to his different times, he purposefully "engaged" all his leaders. He talked to them! Told them what he was about! Told them what he aimed to do! And so, in fact, by the standards of the times, he was ... indeed ... an ... Empowerment Freak. ENGAGEMENT = COMMITMENT = DUH. (Right?)
4. LEE WAY FOR LEADERS: SELECT THE BEST/DIP DEEP/
INITIATIVE DEMANDED/ACCOUNTABILITY SWIFT/
MICROMANAGEMENT ABSENT.

There's a term in the military, "deep dip." It's honored in the breach, alas, but the idea is going way beyond the "seniority list" to find the "best of the best," regardless of age/seniority. Long before the term "deep dip" became popular, Nelson was a "deep dipper." He looked for the best commanders, didn't care about their age or background. And then once he had selected those "best of the best" ... he demanded that they take initiative. He held them "accountable" for their actions. His response if they did not Behave Appropriately was ... SWIFT. He was not a "micromanager." He was a "pick the good people," "give them lots of room," "nail them if they don't come through" commander. (Think: GE!)
5. LEAD BY "LOVE."

Mr. Lambert makes it clear ... AND THIS IS HUGE ... that Nelson led not by "authority," but by "identifying" with his sailors. He was ... and I don't care whether you like my choice (Lambert's) or not ... LOVED ... by his sailors. He was tough! No doubt of it. But there is no contradiction between "tough" and "loved." No matter what people tell you. (Forget that crap: "better feared than loved.")
6. INSTINCT.

Seize the Moment. "Impetuosity" (Lambert). The late John Boyd, a U.S. Air Force Colonel, has sometimes been called the most significant military strategist since Sun Tzu, 1000 years ago. His "great invention" is what is called the OODA Loop. OODA = Observe. Orient. Decide. Act. The basic "Boyd Idea" is that if you react/respond more rapidly than the opponent, you disorient him. Disorient him and distract him to the point that he in effect destroys himself. Nelson was the unspoken Master of OODA. His "impetuosity" was his ability/instinct to act fast, and in Boydian terms, "destroy the worldview" of his opponents.
7. VIGOR!

Nelson was ... ALIVE! Management guru (and symphony conductor) Ben Zander says, "I am a dispenser of enthusiasm." So, too, was Nelson! His sheer energy (AND VIGOR) unnerved the opposition!
8. PEERLESS BASIC SKILLS/MASTERY OF CRAFT
(SEAMANSHIP). NELSON WAS A HELLUVA SAILOR!

Being "good at what you do"/"Excellent at what you do"/"BETTER THAN ANYBODY ELSE AT WHAT YOU DO" is, after all, terribly important. Nelson was. A helluva sailor. Years before, when the Brits were trying to deal with the Yankees, the American John Paul Jones (a Scotsman by birth) was "vigorous" (to be sure) ... but above all ... One Helluva Sailor. Mastery Matters.
9. WORKAHOLIC!

Here was Nelson: "duty ... first, second, and third" (and there is no fourth). He was a workaholic! Outwork the bastards! (It ... matters.)
10. LEAD BY CONFIDENT & DETERMINED & CONTINUOUS
& VISIBLE EXAMPLE.

Nelson was ... PERPETUALLY & VISIBLY ... IN HARM'S WAY. Rudy Giuliani was "our leader" on 9/11. What was his secret? HE SHOWED UP! Gandhi: "YOU MUST BE THE CHANGE YOU WISH TO SEE IN THE WORLD." Nelson was there! Eventually, at Trafalgar, he was killed as the price of his "visibility." But long before he was killed, he stuck his neck and his hat and every other part of his body out. That is, he was ... VISIBLE.
11. "GENIUS."

(Lambert's word, not mine.) I love this Lambertism: Nelson "transformed the world to conform to his idea," he "triumphed over the rules." That is ... THE RULES DIDN'T HOLD FOR NELSON! NELSON: MADE HIS OWN RULES! That's what Gandhi did! That's what Senior Minister Lee did in Singapore! Intriguingly, Lambert points out the difference between "genius" and "greatness." The "great ones," "make the best of their world." The "geniuses," ... "TRANSFORM THE WORLD TO CONFORM TO THEIR IDEAS."

LOVE THAT!
12. LUCK!

Nelson was a survivor. They shot at him. Many times. They wounded him. Many times. And he survived. An American general in Vietnam, Melvin Zais, took over a big command. The commander's letter, before his arrival, he reports, was titled "Bold Eagle." Zais changed it to "Lucky Eagle." "I figure," the general said, "that if I am 'bold,' my soldiers will know it. What a soldier wants is a General who is 'lucky.' So I changed that title, called it 'Lucky Eagle.'"

AMEN!
13. OTHERS' PRINCIPAL SHORTCOMINGS: "ADMIRALS MORE FRIGHTENED OF LOSING THAN ANXIOUS TO WIN."

Wow! This one set me on my heels. It's as true of the average corporation circa 2005 as it is of the "average" Navy. Nelson's time. Or ours. That is, "admirals" (the Big Guys) who are "more frightened of losing" than they are "anxious to win" will not prevail.

(Wow!)
So I swiped these ideas about Nelson from Mr. Lambert (which coincided with my own views of Nelson, based on my extensive reading) and translated them into even plainer English:
The Nelson Baker's Dozen (Reduced)
1. Simple Scheme!
2. Noble Purpose!!
3. Engage others!
4. Find great talent! Let it Soar!
5. LEAD BY LOVE!
6. Trust your gut! Seize the Moment! Act! Act! Act! (And confound by the "act of acting.")
7. Vigor!
8. Master your craft!
9. Work harder than the next person!
10. Show the way! Walk the talk! Exude confidence! Start a Passion Epidemic!
11. Change the rules! Create your own game!
12. Shake off the pain! Get back off the ground! The timing may well be right tomorrow! (E.g.: Get Lucky!)
13. By hook or by crook, quash your fear of failure, savor your Quirkiness, and participate Fully in the Fray! Seek Victory rather than the Avoidance of Defeat.
About a hundred years or so after Nelson, the British Navy was blessed by John Fisher, the First Lord of the Admiralty, at precisely the time the Royal Navy was in need of revolution (the end of the Age of Sail). Fisher (as reported by Jan Morris in
Fisher's Face: or, Getting to Know the Admiral
) provided us with another set of "Nelsonian" "rules" that I ... LOVE (in the Admiral's words):
Do right and damn the odds.
Stagnation is the curse of life.
The best is the cheapest.
Emotion can sway the world.
Mad things come off.
Haste in all things.
Any fool can obey orders.
History is a record of exploded ideas.
Life is phrases. (TP: Best story wins!)
Fisher (redux):
"We must have no tinkering! No pandering to sentiment! No regard but susceptibilities! We must be ruthless, relentless, and remorseless!"
Hats off to these two Grand Men of Her/His Majesty's Navy!
*

---
*
Tom Peters, as a U.S. Navy "exchange" Midshipman, proudly served with Her Majesty's Navy in June-August 1965.

ABOUT THE AUTHOR
Fortune
called
Tom Peters
the Uber-guru of management, and compares him to Ralph Waldo Emerson, Henry David Thoreau, Walt Whitman, and H.L. Mencken.
The Economist
tagged him the Uber-guru; and
BusinessWeek's
take on his "unconventional views" led them to label him "business's best friend and worst nightmare."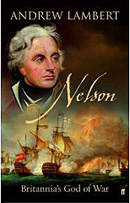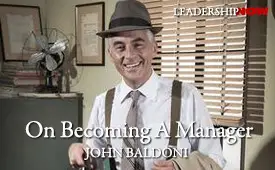 On Becoming A Manager
JOHN BALDONI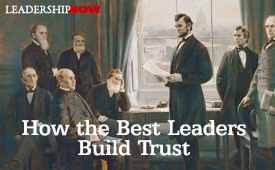 How the Best Leaders Build Trust
STEPHEN M. R. COVEY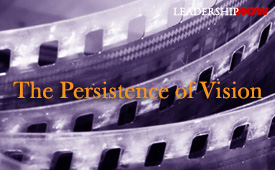 The Persistence of Vision
MICHAEL MCKINNEY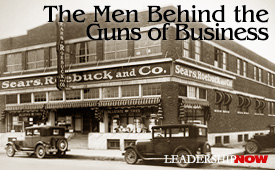 The Men Behind the Guns of Business
RICHARD W. SEARS






Follow us on: